Children's Church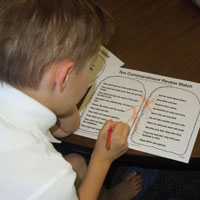 Children's Church meets on Sunday mornings at 9:00AM, during the morning Worship Service. We have available two classes, 3-D and KinderPraise.

KinderPraise - ages 3-5 years old
For preschoolers (ages 3-5 yrs. old), we have KinderPraise available on Sunday mornings at 10AM, during the morning Worship Service.

KinderPraise is led by enthusiastic teachers who love the Lord and want to teach our young children how to know and love Him, too. There are vivid Bible stories and songs; exciting illustrations of how to apply each lesson in daily life; skits and activity time; and snacks, too!

Your child will feel welcomed and secure in this fun class!

3-D (Disciples Daring to be Different), ages Kindergarten thru 6th grade - Disciples, Daring to be Different

Every Sunday, kids from kindergarten through sixth grade meet in an atmosphere designed to capture their attention & make church a fun and life-changing place to be. We help kids experience God...by singing songs of praise and worship arranged just for kids... through illustrated sermons, crazy characters, powerful Bible lessons, creative Scripture memory activities, drama skits, puppet shows and challenging games that reinforce what they've been learning. We are reinforcing Christian values and character and showing them ways to apply these in their day-to-day lives. One of our goals is to train them to be the Christian leaders of tomorrow by giving them opportunities to lead in 3-D and learn how to be an example others will want to follow.

This year we are learning the attributes of God through a study of New Testament characters. If you are in Kindergarten - 6th grade, please join us at 10AM every Sunday morning in the Annex across from the Church. Come a few minutes early for a snack!

If you have questions about our Children's Church programs, please contact the church office.